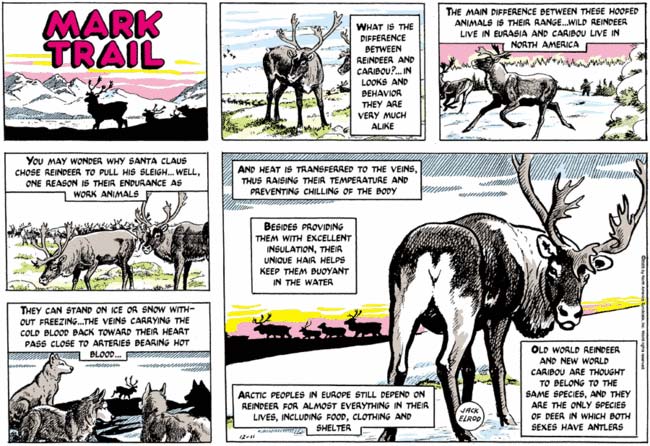 Hat tip: Comics Curmudgeon (follow the links and look for the moon synonym).
Here is a 2005 reindeer economics post:
From the WSJ's Evening Wrap:
How much is one of Santa's reindeer worth? According to the Danish Air Force, about $5,000. That is what they paid Olavi Nikkanoff, a Danish farmer who plays Santa Claus at Christmas, to compensate for one of his reindeer, named Rudolf, who was apparently killed by two F-16 fighter jets earlier this year. The reindeer was not shot out of the sky, however; rather, he was minding his own business on Mr. Nikkanoff's farm when the jets screamed overhead at a low altitude, scaring poor Rudolf to death. Mr. Nikkanoff said he was satisfied with the compensation and would use it to buy a new reindeer before Christmas.
Meanwhile, reindeer sausage, chips and a drink costs $5 on a street corner in Anchorage, AK.
Adjusting with the CPI, the values of reindeer and lunch are $5978.90 and $5.98 in 2013 dollars.